The Tucson Maynard Dixon Museum is a permanent exhibition of the lifework of Maynard Dixon, including original oils, watercolors, drawings, and poetry.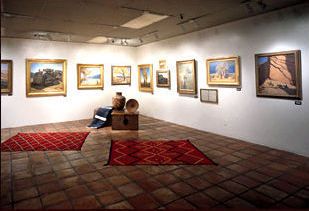 The Tucson Maynard Dixon Museum contains Dixon's easel, along with a wide collection of original photographs. Over 75 books illustrated by Maynard Dixon, letters, and ephemera are on display.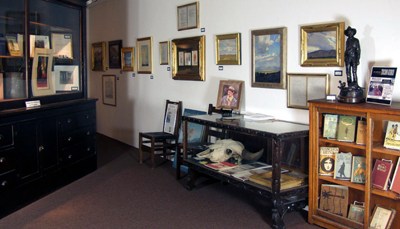 Shortly after World War I, Maynard Dixon began to entertain himself by painting a body of work that was unlike anything he had done before. They can mostly be described as being surreal, whimsical, bizarre, and sardonic.  He signed these works "Nvorczk" a pen name he invented to probably satirize some of the art that was popular at that time.  These works are ex-collection Edith Hamlin and have been authenticated by Edith Hamlin and John Dixon. The Tucson Maynard Dixon Museum has the only exhibition of Nvorczk paintings on display to the public.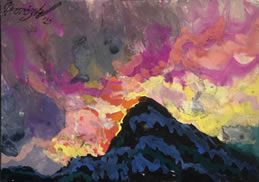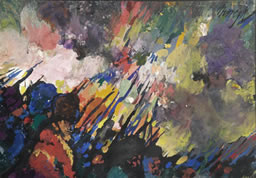 Maynard Dixon, "Nvorczk" Fiery Mountain     Maynard Dixon, "Nvorczk" War in Russia
      Courtesy Mark Sublette Medicine Man Gallery
Also on exhibit are works by Edith Hamlin, Dixon's wife, an acclaimed artist in her own right as well as photographs by Maynard Dixon's second wife, famed depression-era photographer Dorthea Lange.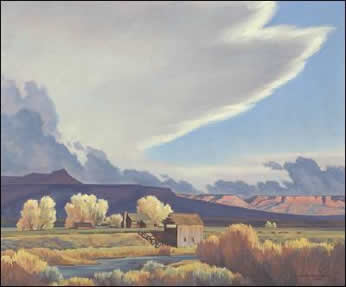 Edith Hamlin, Homestead on the Sevier, 1948
Private collection Arizona works are emphasized in the Maynard Dixon Museum. Tucson was Maynard Dixon's home. Maynard Dixon died in Tucson, Arizona 1946.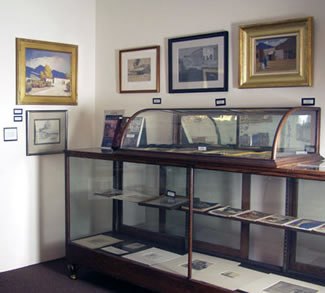 Susan Kliewer, one of the Southwest's most acclaimed contemporary sculptors has captured Maynard Dixon in bronze, and the sculpture is available in a limited edition through Mark Sublette Medicine Man Gallery.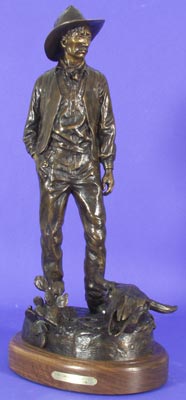 At Last, I Shall Give Myself to the Earth Again…
 Maynard Dixon Bronze
 Artist Susan Kliewer, Edition of 45,  24″ x 12″ x 9″